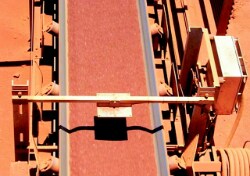 Mining and processing ore and minerals is a dusty undertaking. The Centers for Disease Control and Prevention/Office of Mine Safety and Health Research (CDC) issued a Dust Control Handbook for industrial minerals mining and processing. In the handbook, it explained that:
…Throughout the mining and processing of minerals, the mined ore undergoes a number of crushing, grinding, cleaning, drying, and product sizing operations as it is processed into a marketable commodity. These operations are highly mechanized, and both individually and collectively these processes can generate large amounts of dust. If control technologies are inadequate, hazardous levels of respirable dust may be liberated into the work environment, potentially exposing workers. Accordingly, federal regulations are in place to limit the respirable dust exposure of mine workers. Engineering controls are implemented in mining operations in an effort to reduce dust generation and limit worker exposure.
Wet dust control systems can be very effective in controlling dust, but they may not be feasible due to characteristics of the mineral, subsequent processing steps, or customer specifications. A common method of dust control at mineral processing operations is the use of wet spray systems to add sufficient moisture to contain the dust but not more than what is required, or otherwise known as DEM ( Dust Extinction Moisture). Wet dust control can be done to the process material before crushing, after crushing, or both. However, this method has its drawbacks. The physical properties of materials can present bulk handling challenges requiring precise moisture measurement and careful adjustment. If insufficient water is added, excessive dust is generated; if too much water is added, the material becomes sticky. Also, when operations are in northern climates, freeze protection is necessary as ice buildup can create additional safety hazards for workers.
The CDC recommends that the "amount of moisture applied should be varied and tested at each operation to determine the optimum quantity, but a one percent moisture to product ratio is a good starting point." However, wet sprays cannot be used with all ores, especially those that have higher concentrations of clay or shale because these minerals tend to clog screens and chutes.
Another factor to consider is the climate. In cold weather conditions, excess moisture can promote slippage and adversely affect conveyor belt performance. Also, water can freeze and destroy machinery. If the environment is too hot, the water may evaporate. If it does, the question remains as to how much evaporated and how much is left covering the minerals.
To take the guess out of dust and moisture content, mining operators and mineral processors use moisture analyzers that can provide accurate, real time, and cost effective measurements throughout the processing and bulk handling of ore and minerals. Specifically, Low Frequency Microwave (LFM3) moisture analyzers work on the principle that water has a very high dielectric constant compared to most other materials. When microwaves intersect with water molecules within the material they slow down (and hence change phase) and weaken (attenuate) as the energy is transferred to the material. An LFM moisture analyzer that has a low profile antenna can transmit a low frequency microwave signal through the material on the conveyor belt. The signal can then be received by a receiver patch located below the conveyor belt. The received signal is compared to the transmitted signal for phase and amplitude change.
LFM analyzers are used to help identify potentially serious compaction issues by the radio frequency signature. This microwave technology can help identify the relationship between moisture, swelling, rheology and radio frequency response giving an alarm when serious compaction is likely. This allows for precise addition of water from mine to port, helping operators to control dust extinction while keeping moisture below maximum shipping limits. Measurements are not affected by vertical segregation of the material on the belt.
Another technology that is used for online moisture measurement is NIR (Near Infra Red) which is limited because it only measures surface moisture and does not penetrate the whole burden of material. In dust elimination moisture applications where the moisture is measured immediately following sprayers, the moisture reading will be biased to read high moisture which is true for the surface but not for the whole burden of material.
In addition to helping to monitor moisture for dust control, LFMs can be used in several other ways, including to:
achieve specified moisture for shipment, both for the customers and the shipping operators
attain feed forward control in critical drying or calcining applications
calculate moisture compensation for accurate metallurgical accounting
control critical moisture levels in pelletizing and sintering applications
monitor moisture specifications in thermal power applications
control filter presses and centrifuges in dewatering applications
In my next article, I will outline a case study on how a global coal exporter located in Queensland, Australia, used LFMs to help ensure optimum coal moistures were achieved for site dust management.