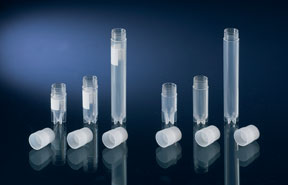 The quality of your biospecimen is only as good as the container you store it in. So, make sure you consider these three key features when you select storage tubes for your precious samples.
1.Storage tube quality
High-quality storage tubes are:
Contamination-free. The sterility level of your storage tubes must be one of your top concerns. Why? Because contamination can negatively impact many sample types, especially biological samples, and compromise downstream analysis and results. RNA, for example, is particularly sensitive to RNase gene family proteins, which may be present on tools and surfaces that have not been properly sterilized. Look for the higher sterility assurance levels (SAL) of 10-6 or 10-3, so you're certain the storage tubes you're using are free from DNase, RNase, DNA, pyrogen, endotoxin, cytotoxin, etc.
Manufactured using regulated processes confirmed by stringent product validation. High-quality storage tubes are manufactured from virgin medical-grade raw materials that are free of heavy metals or other additives

that may impact sample integrity

. A storage tube supplier should be able to provide documentation supporting product and material quality.
2. Seal integrity
The seal you choose for your storage tubes must maintain the quality of the sample contents, prevent evaporation and inhibit contamination from outside the tube. Also, it's important to remember that when shipping blood, urine, fluids and other specimens containing or suspected of containing infectious substances, all samples must be packaged and labeled according to applicable government and International Air Transport Association (IATA) regulations.
You can seal storage tubes with:
A pierceable foil seal. Many biobankers secure their samples by heat-sealing each storage tube with a pierceable foil seal. Foil-sealed tubes can be pierced easily with manual or automated

disposable or fixed

tips, and the low-profile seal is highly compatible with downstream

manual and

automated storage equipment

at temperatures ranging from -196 to 25 C. Sealing is fast, cost-effective and

easy,

requiring

minimal heat to be effective.

A cap

with

a gasket.

If your

samples require storage at cryogenic temperatures, you'll want to select storage tubes with a soft-material gasket—typically comprised of silicone rubber—that can form a high-integrity seal between the tube and cap. Alternatively, for storage at temperatures above freezing, such as room temperature, consider cap gaskets made from thermoplastic vulcanizates (TPV) materials

which have limited gas permeability properties at higher temperatures.

A note about capping and de-capping: Whether semi- or fully automated, capping and de-capping tools provide an opportunity to ensure seal integrity of screw top style tubes and closures while increasing throughput by approximately 10 times per rack of tubes. These useful tools provide alternatives to tedious manual capping by reducing repetitive stress and securing caps to their recommended torque level, ensuring sample integrity and preventing loss during storage and transportation.
3. Labels and unique identifiers
Every sample should have a unique identifier or combination of identifiers that are a permanent part, of the container. Identification options include: human readable (no scanner required), linear barcodes and 2-D barcodes. Whichever you use, make sure:
Uniqueness is guaranteed. Guaranteed uniqueness from a supplier is key to ensuring that identifiers are

not duplicated

. Combinations of 2-D, 1-D and human readable codes enable easy sharing of samples between sites with various levels of barcode reading technology. This combination of features is appealing to hospital systems

for biological sample collection,

which may have multiple laboratories handling samples.

The label is clearly and legibly marked and able to withstand all potential storage and transportation conditions. Single-piece construction of tube and code is critical to ensure the tube and code are never separated. It minimizes the risk that a tube will be scanned and erroneously attributed to components from another, causing an incorrect result. Unfortunately, without single-piece construction, mistakes like this happen and often go undetected, leading to false positive or false negative results.
The label will be stable under long-term storage conditions appropriate for the intended storage material. Guaranteed label readability is essential, so look for designs that can be identified after exposure to storage, processing or transportation conditions. Laser-etched 2-D barcodes ensure permanent and secure sample tracking with high-contrast codes that can be read even with frost

or condensation

present.
As you can see, it pays to be thoughtful and thorough when selecting the right storage tube for your project. Next time, I'll discuss sample management systems and how they, too, can impact the quality, integrity and consistency of your results.