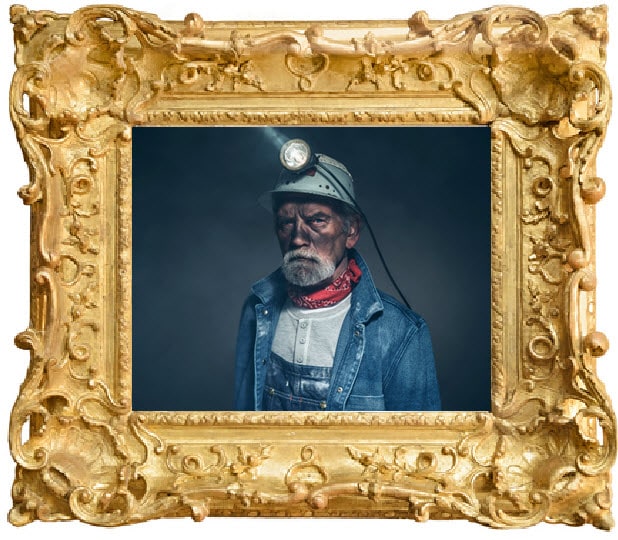 I recently read that Britain's first art gallery devoted to coal mining is set to open next summer. The artwork is by — and about — miners. The Financial Times Limited quoted Dr. Bob McManners, the co-founder of the 300-piece collection, as saying: "Through imagery they tell us what it felt like to work in the coal mines, not simply what it looked like."
We previously wrote about what it is like working in a coal mine. Coal mining is truly a dangerous job, from both long term effects and day to day dangers. It is physically demanding and can adversely affect one's health. In addition to the structural hazards of working underground, the air poses a problem to one's lungs. Dust inhalation is a huge concern in coal, metal, nonmetal, stone, and sand and gravel mining operations.
In fact, the U.S. Mine Safety and Health Administration (MSHA) considers respirable coal dust to be one of the most serious occupational hazards in the mining industry. Coal and crystalline silica dust are the causes of serious, sometimes fatal lung diseases such as pneumoconiosis (CWP, or black lung), which affects coal miners, as well as silicosis, tuberculosis, chronic bronchitis, emphysema, chronic obstructive pulmonary disease (COPD), and chronic renal disease, which affect coal and other types of miners. The National Institute for Occupational Safety and Health (NIOSH) has classified crystalline silica as a potential occupational carcinogen. [Read Working in the Coal Mine – Avoiding Dust Inhalation.]
Scientists from government and private organizations are continually developing programs to identify risks, monitor dust levels, and implement strategies and technologies to reduce exposure. In fact, tools do exist today for mine workers and management to personally monitor and reduce their coal dust exposure as the first line of defense in preventing health problems. These monitors protect miners' health by tracking the shift-average respirable dust exposure as it approaches regulatory limits. The monitor starts by drawing a continuous sample of air from the breathing zone. It then removes any particles that are larger than respirable in size and measures the mass of the dust, which is collected on an exchangeable filter. Dust exposure results are automatically computed.
As we mentioned in Working in the Coal Mine…Part 2, personal dust monitors may not be able to help prevent falling chunks of rock, but this technology can be used as a valuable scientific tool to quickly assess the impact of changes in engineering controls. This is critical to overall dust control as the equipment is repositioned and a tremendous benefit in increasing the awareness of the dust exposure levels, hopefully leading to a reduction in Black Lung Disease.
So it's natural to question how workers can see beauty in an industry associated with dangerous dust and Black Lung disease.
Even McManners thought about that question, as he was quoted in a BBC article as saying: "Coal has defined the region's character and we owe it to those in our coal industry to permanently celebrate their art and understand why, even for their leisure, the miner felt it necessary to paint that same dark, clamorous, claustrophobic arcane world, denied to our gaze, where he had just spent a perilous shift of frightening physical toil."
Maybe we will find the artwork enlightening.
Editor's Note: Have you explored our Cement, Coal & Minerals Learning Center? It's filled with white papers, application notes, webinars, videos, and other resources about mining, from exploration through processing.