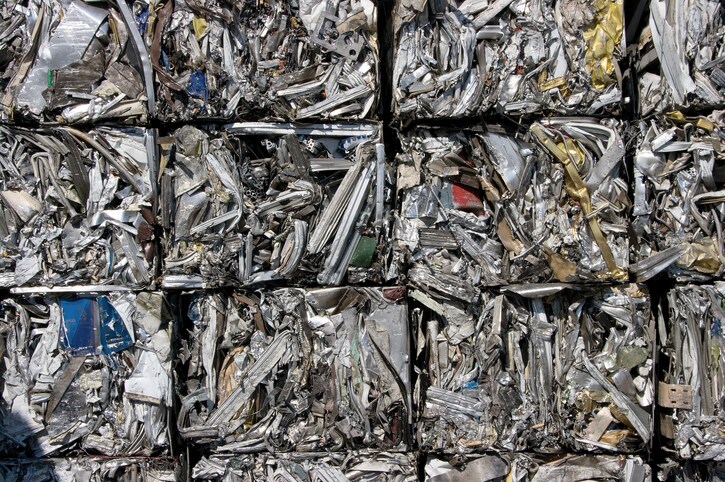 A stainless processing facility found 145 nuclear items in scrap in 2011 and 200 in 2010, and more than 120 shipments of contaminated goods were denied U.S. entry between 2003 and 2008. Items such as decorative tissue box holders, metal tea tins, cheese graters, elevator floor numbering buttons, rebar, patio furniture, shovel blades, fashion belts, etc. have been discovered manufactured from Co-60 contamination metal.
A few years ago, the International Atomic Energy Agency (IAEA) reported that they were aware of, on average, 150 or so serious "events"/year involving scrap metal. Here are just a few examples: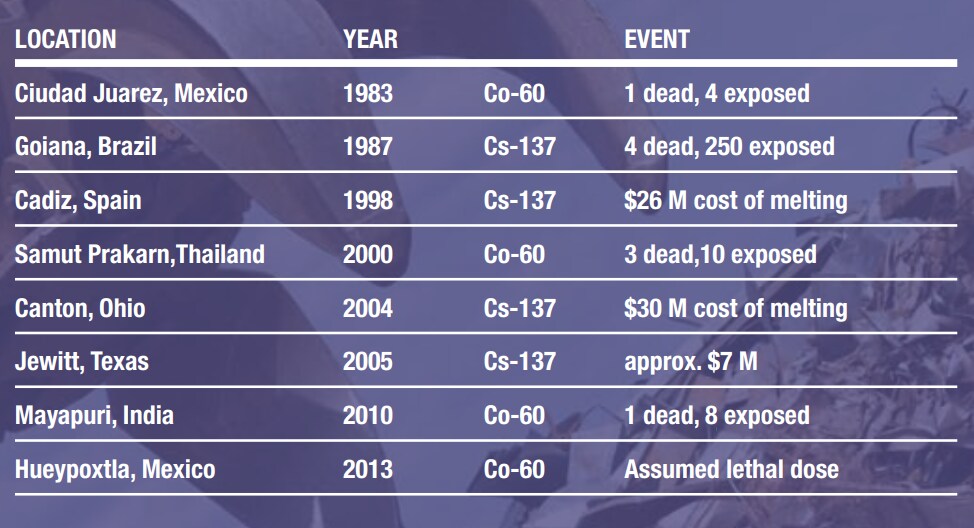 How did all these events happen? It takes just one orphan source to become a threat to your business and the public's health.
Orphan Sources refer to sealed sources of unwanted radioactive material. These sources can be dangerous because they can inadvertently contaminate the scrap metal recycling stream.
Medical diagnostic and monitoring equipment use radiological sources. Industries that make certain batteries, non-stick cookware, wrinkle-resistant fabrics, reflective signs, paper products, and many, many other products utilize radioactive substances and equipment that contains radioactive sources. Academic and scientific institutions use nuclear materials in their work. There is a wide range of industries and a wider variety of applications that utilize these sources.
But as in most industries, there is waste that needs to be disposed of, and if these sources get mixed up in the waste stream, they could end up contaminating landfills and the soil. Even worse if they are in the recycling heap they could end up at metal recycling facilities, where they contaminate the materials they touch, then get melted all together and contaminate the whole batch – while contaminating the melting pot itself and all the equipment used to melt down the materials. And that's after they have contaminated your shredding and sorting equipment and conveyor systems.
The US Environmental Protection Agency has created Radiation Training Presentations for Scrap Metal Processing and Demolition Sites to train personnel in the identification and proper handling of radiation sources that could be encountered at scrap metal facilities or demolition sites.
One of the best ways to protect your metal recycling facility from orphan sources and radiation contamination, however, is to prevent it from entering your facility in the first place. There are Automatic Scrap Monitoring Systems that monitor vehicles entering the scrap yard, or processes within the facility, and provides accurate, reliable detection of radiation sources commonly found in scrap metal. With high performance and a low false alarm rate, the system rejects radioactive materials before they can harm people or the environment.
Trucks, vehicles, and railcars that deliver the materials should be monitored, as well as the conveyors, platform scales and dust collection equipment used in the process. Actually, we can think of at least 10 different places in a recycling yard where radiation detection and monitoring equipment can be used. [See this infographic: 10 Reasons (and Places) Recyclers 10 Need Radiation Detection.]
If a contaminated source enters your recycling facility, it has the potential to contaminate your metal inventory. Don't let the possibility of a source slipping into your material stream, be the source of a shutdown to clean it up.