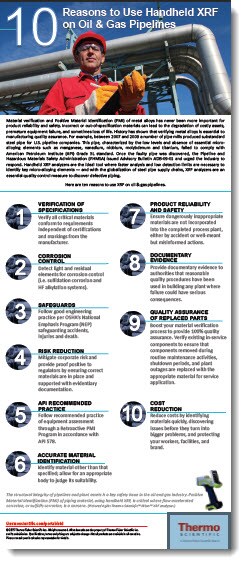 Material verification and Positive Material Identification (PMI) of metal alloys has never been more important for product reliability and safety. Incorrect or out-of-specification materials can lead to the degradation of costly assets, premature equipment failure, and sometimes loss of life.
History has shown that verifying metal alloys is essential to manufacturing quality assurance. For example, between 2007 and 2009 a number of pipe mills produced substandard steel pipe for U.S. pipeline companies. This pipe, characterized by the low levels and absence of essential micro-alloying elements such as manganese, vanadium, niobium, molybdenum and titanium, failed to comply with American Petroleum Institute (API) Grade 5L standard. Once the faulty pipe was discovered, the Pipeline and Hazardous Materials Safety Administration (PHMSA) issued Advisory Bulletin ADB-09-01 and urged the industry to respond.
Handheld XRF analyzers are the ideal tool where faster analysis and low detection limits are necessary to identify key micro-alloying elements — and with the globalization of steel pipe supply chains, XRF analyzers are an essential quality control measure to discover defective piping.
Here are ten reasons to use XRF on oil & gas pipelines. View the Infographic.