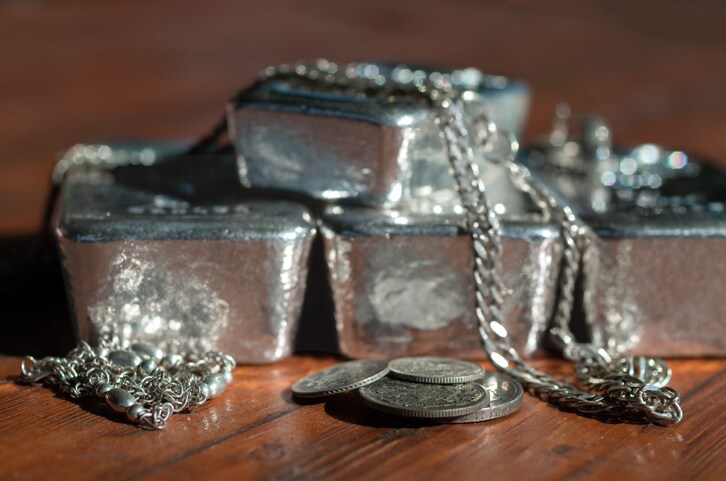 Silver, one of four primary precious metals, has been in the news lately as there have been reports of unprecedented demand on physical silver products. Another news report posted that demand for the precious metal overflowed into shares of silver mining companies and silver bullion dealers and the price of silver is rallying as the online trading movement took a shine to the precious metal.
We recently saw in the news that local pawnbrokers, cash-for-gold operators, and precious metals dealers were seeing an increase in people cashing in their gold jewelry and coins for cash. The four primary precious metals are gold, silver, platinum, and palladium, and are used commonly in jewelry, industrial processes, or very often as investment vehicles or cashed in at pawn and jewelry stores. You cannot always tell the exact metal, or the percentage of precious metals in a piece, just by looking at it. Every gram of silver counts, so it is very important that the percentage of the precious metal content be verified so correct value can be determined.
It seems silver might be the new gold when it comes to selling jewelry for cash. We cautioned before that these businesses needed to be aware of precious metals fraud during economic uncertainty, and this warning includes silver as well as gold.
We are not advising you to buy or sell silver, but we will address how to help accurately identify if any silver or precious metal content is contained in the jewelry or precious metals that are cashed in or purchased.
Silver Identification for Retail Operations
If you are a pawn shop, jewelry store, or cash-for-gold operation, precious metal analyzers are especially useful in providing a fast, accurate, and most importantly, nondestructive method to test the purity and chemistry of all precious metals, including silver. If a customer decides not to cash in a piece if they don't think it is worth it, they will not want their heirloom scratched, burned, or destroyed in any way, so the type of confirmation technology used is important.
Verification tests that business use include the scratch and acid test, which is widely used but not very accurate and potentially dangerous, and could hurt the piece. The most precise method is fire assay, but this method destroys the sample. Laboratory methods with expensive machines require extensive sample preparation.
Finally, there is portable X-ray florescence (XRF), a non-destructive method that measures up to 22 elements in one reading. For businesses that need an accurate, fast, easy, non-destructive method for a reasonable price, portable XRF analyzers are one of the best possible solutions among all the techniques. And your customers will appreciate being able to keep an eye on their pieces while you analyze the items.
Silver Identification for Manufacturers Buying Recycled Metals
There's no telling if the cost of raw materials will change dramatically with the latest silver frenzy – whether your operation is buying newly mined or recycled silver.  (One major jewelry maker announced last year that it was switching to all recycled gold and silver. Either way, you should make sure you know what you're buying.
Today, around 15% of the world's silver supply comes from recycled sources – more than half of it where  the metal is used in chemical production – like photographic wastes, films, dental alloys, spent catalysts, electronics, and other industries. (Read What Happens to the Gold After the Old Jewelry is Cashed In?) Depending on the origin of the recycled silver, various contaminants may be unknowingly introduced into the melt, thus affecting not only the properties of the melt itself (such as its melting temperature), but also the properties of the end-product, the jewelry item. This could hurt both the quality and the brand of major jewelry makers.
Recycling efforts must be combined with careful elemental analysis of the recovered metal to determine its exact chemical composition and to ensure the metal is free from contaminants or hazardous materials before it gets to the customer. So, not only should metal recycling companies confirm what's in the melt, but manufacturers should also analyze the scrap they are buying before putting it into production.
X-ray fluorescence (XRF) technology can also be used to determine qualitative and quantitative analysis of materials in scrap metals. XRF analyzers determine the chemistry of a sample by measuring the fluorescent (or secondary) x-ray emitted from a sample when it is excited by a primary x-ray source. Because this fluorescence is unique to the elemental composition of the sample, XRF can determine the exact content of the metal elements.
We've gone into more details about analyzing and verifying precious metals and precious metal alloys in our webinar Not All that Glitters is Gold. You can download the recording anytime and see a demo of the analysis in action. All you have to do is keep your eye on the screen, and not on the silver market.