As the Fourth Industrial Revolution ushers in a new era of highly efficient manufacturing, robotics and automation are taking center stage. One area that's being automated is the analysis of material samples for industrial quality control purposes.
With industrial quality control labs working to accelerate their competitive advantage, many are turning to advanced technology to automate their use of optical emission spectrometry (OES) and X-ray fluorescence (XRF) spectrometers to identify the elemental composition of metal, cement, and mineral samples. Yet, how can they implement automation in a way that maximizes the speed and quality of these analyses?
To address these issues, we recently released the Thermo Scientific ARL SMS-3300 Automation for Single or Twin OES or XRF designed to improve automation efficiency for quality control laboratories in the metals, cement, and mining industries. The ARL SMS-3300 System automatically and simultaneously analyzes multiple samples using dual spectrometry instruments without the need for human intervention.
Unlike other systems, which require the costly development of two separate automated lines, each with its own robot, the ARL SMS-3300 System streamlines automation of separate sample preparation and analysis systems into a single materials analysis workflow—reducing cost and improving efficiency.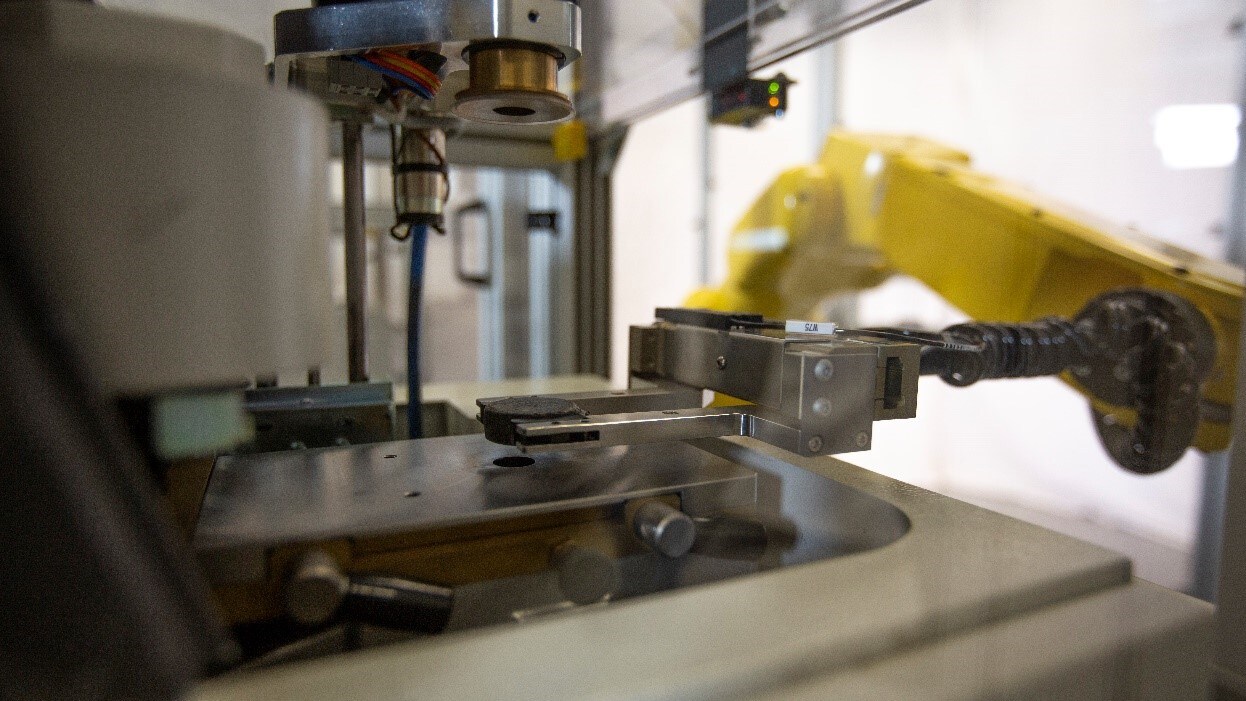 The ARL SMS-3300 robot moves samples between the system components in just a few seconds.
With the ARL SMS-3300 System, industrial quality control labs can create an automated workflow that combines a single sample preparation machine with either two identical spectrometers or separate OES and XRF spectrometry instruments. A medium-size, pedestal-standing heavy-duty robot with an arm-length gripper moves samples between the sample preparation machine and the spectrometers. Moreover, incoming samples can be temporarily stored using an optional sample introduction magazine function and then processed by priority.
The benefits of the ARL SMS-3300 System include:
Single or dual instrument configurations: The ARL SMS-3300 System can be configured with a single spectrometer that can be upgraded in the future or with two instruments to speed sample throughput or obtain integrated OES and XRF data.
High sample throughput and uptime: The ARL SMS-3300 System can be set up to use two identical spectrometers, increasing sample throughput and ensuring optimal around-the-clock availability.
Combined XRF and OES analysis: Researchers can integrate the measurements of XRF and OES spectrometers into a single sample analysis—for example, by identifying high-concentration alloy elements using an XRF spectrometer along with trace and light elements obtained using an OES instrument.
Faster workflows: The ARL SMS-3300 robot can move samples of up to 1.5 kilograms between the system components in just a few seconds—speeding material analyses and eliminating the need for complex and time-consuming electro-mechanical transfer systems.
Maximum flexibility and easy upgradeability: The ARL SMS-3300 System can be used with most sample preparation machines and a wide range of accessories to meet the specific requirements of industrial quality control labs. The compact system reduces floor space and can be easily upgraded from single to dual instruments directly from within the field.
As quality control labs in the metals, cement, and mining industries strive to improve their processes, the ARL SMS-3300 System offers a fast, reliable and flexible solution for maximizing automation efficiency. Using this solution, lab researchers can speed their sample analysis turnaround times while achieving the high-quality data needed to optimize their products.
To learn more about the ARL SMS-3300 System, watch the video. Also, check out the Thermo Scientific ARL SMS-3300 System webpage.
Christopher R. Shaffer is Product and Business Development Manager at Thermo Fisher Scientific.