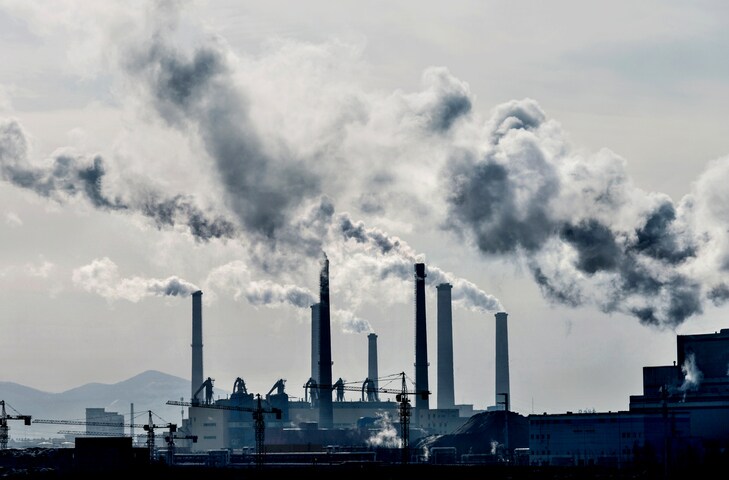 Nitrogen Dioxide (NO2) is one of a group of highly reactive gases known as oxides of nitrogen or nitrogen oxides (NOx) and it can be dangerous to one's health. The US Environmental Protection Agency (EPA) EPA considers NO2 as both a primary and secondary "criteria air pollutant" and has set National Ambient Air Quality Standards (NAAQS) for NO2 to specify maximum amounts of NO2 to be present in outdoor air.
Because power plants are a major source of NO2, clean coal technologies and low NOx gas turbines are being developed to remove or reduce pollutant emissions into the atmosphere. These technologies control burn to minimize emissions of nitrogen oxides, as well as employ state-of-the-art air pollution control technology to scrub the remainder of the NOx out.
NOx is the reaction of nitrogen and oxygen gases in the air causing smog or even formation of fine particles in the air. SCR (Selective Catalytic Reduction) is a method to reduce NOx emissions by converting the NOx to Nitrogen (N2) and water (H20) by the reaction of NOx and Ammonia (NH3). This reaction is sometimes referred to as De-NOx.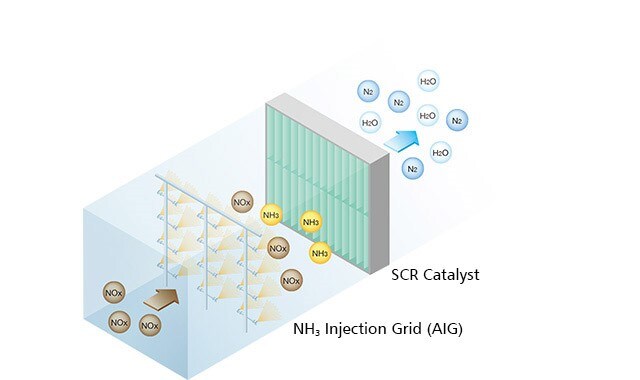 The reaction between NOx and NH3 is never perfect, although it can achieve efficiency rates often higher than 95%. There is a waste stream of un-reacted NH3 that goes into the atmosphere. This excess NH3 is known as Ammonia Slip.
There are two major ways to monitor NH3 Slip – Differential Chemiluminescence of sample with NH3 conversion, or Tunable Diode Laser (TDL) which provides a direct NH3 measurement. Each method has its own merits, and drawbacks, which make specifying the correct method for the application very important.
Differential Chemiluminescence uses two NOx monitoring analyzers to measure the difference between total Nitrides, and the Nitrogen Oxides (NO & NO2). A NOx monitoring analyzer operates on the principle that Nitric Oxide (NO) and Ozone (O3) react to produce a characteristic luminescence with an intensity linearly proportional to the NO concentration. Infrared light emission results when electronically excited NO molecules decay to lower energy states.
Ammonia (NH3) must be transformed into NO before it can be measured using the chemiluminescent reaction. This is done by means of a thermal oxidizing converter located in the probe at the sampling site.
Typical coal emission concentrations are too high for a NOx monitoring analyzer; therefore, dilution is necessary to perform two key functions of cleaning the gas stream and lowering the concentration level. A special NOx analyzer can be used for low source emissions, such as a gas turbine to measure an extracted sample without dilution but requires that the sample is cooled and dried of moisture.
Tunable Diode Laser is a technique using absorption spectroscopy for a direct concentration measurement of the NH3. A benefit of using this technique, is that the sample can be extracted and measured in a hot wet condition, meaning no moisture content needs to be removed.
Tunable Diode Laser Spectroscopy uses a narrow bandwidth laser to identify the target gas absorption line in the near infrared spectra. This method is highly selective to identifying the desired molecule and can offer very fast response times.
When implementing a TDL analyzer, there is an important distinction between applications for the use of an in-situ analyzer or extractive close-coupled system, sometimes called ex-situ. An in-situ analyzer measures the gas without removing it from the stack or duct. This is good for fast response times, but the measurement is susceptible to particulates in the emissions stream blocking the light. Vibration also has a huge effect on this method of measurement, often misaligning the light and measurement equipment.
An ex-situ analyzer pulls the sample through a probe to out of the stack or duct, while performing some particulate scrubbing and gas stream cleaning. This makes it a good choice for heavier dust concentrations and on stacks with excessive vibration. The analyzer cabinet sits nearby the point of extraction so it can dampen the effects. Because this method requires transport of the sample, response time is longer.
These gas analyzers that utilize the latest technologies are crucial to environmental and the public's health, because when problems can be predicted they can be prevented.