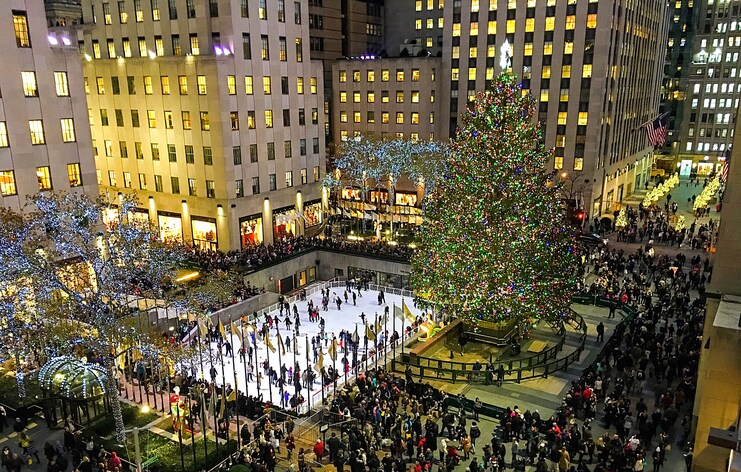 Editor's Note: This article was originally published in 2017, (and has been slightly updated) but it still rings true.
My family and I enjoy spending the holidays in New York City to jumpstart some holiday spirit. We love the city in December, with its bright lights, sparkling decorations, and holiday music playing in every store.  However, we did find it rather challenging making our way through the masses of people.
Although my children and I don't mind crowds, not many people have experienced the throngs of people that can be found at Times Square, Rockefeller Center, and the Empire State Building during the holiday season. Hordes of people can press together ten or even twenty people deep to try to get a look at the festively decorated trees and store windows or catch a glimpse of Santa skating around the ice rink.
In these heightened security times, it's no surprise that one may feel a bit uneasy surrounded by strangers carrying large packages and overfilled bags. However, whenever there are large crowds at popular events, you can be sure security is tightened.  It will be especially true before the ball drops for New Year's Eve in Times Square. (Yes, there will be an event this year.) The official website of Times Square no longer outlines some of the security procedures that are being put into place, but we can tell you that in the past this is what was stated:
At the entry points, and at the spectator viewing areas, each person was searched with a hand-held wand.
Knapsacks, large bags and umbrellas are not permitted. All bags will be searched. Persons declining search will not be admitted into the area
"Plain clothes" officers will be deployed throughout the event
Newspaper/circular type vending machines will be removed prior to the event
Manhole covers are to be sealed shut (41st-50th Streets, 6th-8th Avenues)
All waste receptacles will be removed on Broadway and 7th Ave. from 34th to 59th streets
Sector commanders will survey their posts and direct the removal of accumulated garbage prior to the event
Sanitation to remove bagged garbage (bottles, etc) throughout event
Request Postal Service to service all mailboxes 34 to 59, on 7th & Broadway
Radiation detectors will be deployed for use during the event
Mobile Field Forces are available for immediate response if needed
Rooftop posts are positioned along the event as well as overseeing the access points
Notice that radiation detectors were used.
Police officers could be wearing personal radiation detectors that can detect and localize radiation sources generated by man-made devices such as nuclear weapons, improvised nuclear devices (INDs) or radiological dispersal devices (RDDs). The fire department could be equipped with personal dose rate meters, in order to provide first responders with quick, reliable gamma and dose rate measurements.
If you are at Times Square or ride the subway in that area, you may not even notice the officers in plain clothes walking around with backpacks; but these special radiation detection backpacks could actually monitor the area to rapidly locate and detect gamma-emitting radioactive sources in large areas.
Radiation detection equipment may also be placed in fixed positions in key areas to identify radiation on location or from miles away. Units will be positioned at potentially dangerous locations to alert nearby personnel via a phone app or to a remote command center. Multiple instruments can then be networked wirelessly to expand reach across a large venue or across an entire city. All of these instruments can be connected and feed into NYPD's networked security hub.
In today's society, it's natural to have a heightened awareness of the danger that could be around you when you are surrounded by thousands of strangers.  However, it's comforting to know that although you can't see many of the security protocols that are put into place, there is technology helping to keep us safe … so we all can have a happy holiday.