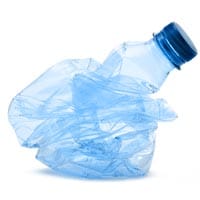 If you happen to be thirsty on a hot summer day, which is safer to drink– your favorite brand of bottled water, or a drink straight from your tap? While bottled water is typically filtered to remove contaminants and minerals which may improve its taste, those effects don't necessarily translate to improved health benefits.1
If you are in in the USA there is good news for you, as all drinking water – including both bottled and tap water must meet the same minimum safety standards. These standards were established by the U.S. Environmental Protection Agency and the Safe Drinking Water Act of 1974. Depending on your particular location; however, the answer of which water to drink may not be all that straightforward.
Regardless of location, a key aspect of ensuring the safety of all drinking water is careful and accurate monitoring. Researchers have demonstrated an effective method for identifying potentially harmful water contaminants such as herbicides.2 Using samples of drinking water spiked with a mixture of herbicides, including: ametryn, atraton, atrazine, prometon, prometryn, propazine, secbumeton, simetryn, simazine, terbuthylazine, and terbutryn the researchers were able to demonstrate the effectiveness of the EQuan MAX Plus system (Thermo Scientific). This specialized instrument consists of a triple quadrupole mass spectrometer with an electrospray ionization source, two liquid chromatography quaternary pumps, an autosampler, and two liquid chromatography columns having C18 selectivity. Water samples can be directly injected into the machine at volumes of 1-20 mL without the need for sample preparations or preconcentration. Once the analysis is complete, the resulting product ion spectra can be identified through library searches.
In this example, the researchers tested samples of 1, 5, and 20 mL at a concentration of a 1 pg/mL. They calculated the area under the curve for 1, 5 and 20 mL. The area for simazine was notably the smallest at all volumes. As the volume increased, so did the area under the curve for each sample. The overall % Relative Standard Deviation (RSD) ranged from 3.99 for prometryn/terbutryn and 11.59 for Ametryn. For the sake of simplifying this demonstration, the researchers did not use an internal standard. They remarked that if a standard was used, the RSD would have improved.
Other research teams have also successfully demonstrated detecting antibiotics3 in drinking water by using a similar protocol and the EQuan MAX Plus system. These methods have since been adapted in an extensive two-year long study of 800 water samples to determine contaminants found in Luxembourg's sandstone aquifers.4
For further discussion on safety testing for beverages, visit our Food and Beverage community
References
1. http://www.cnn.com/2013/11/19/health/upwave-bottled-water/index.html?hpt=hp_bn13
2. Jonathan R. Beck, Charles Yang, "LC-MS/MS Analysis of Herbicides in Drinking Water at Femtogram Levels Using 20 mL EQuan Direct Injection Techniques."
3. Jonathan Beck , et al. High Resolution LC-MS for Screening and Quantitative Analysis of Antibiotics in Drinking Water Using an Orbitrap and Online Sample Preparation
4. Luxembourg Brings Water Testing In-House for Two-Year Nationwide Test