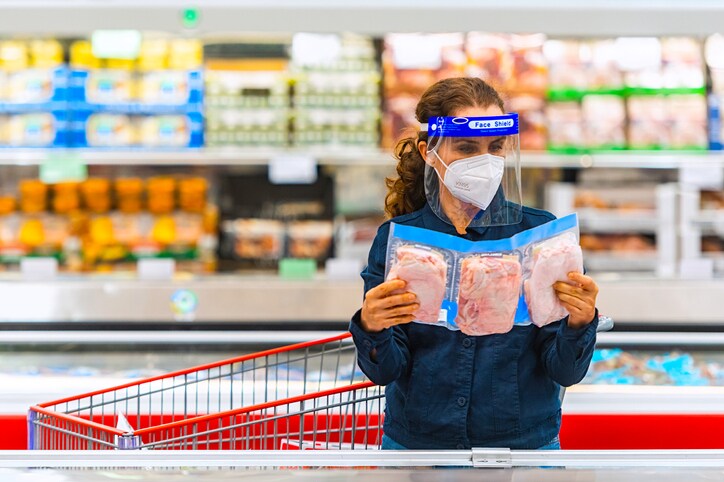 Most consumers have heard of the many restaurants that have closed over the past year. In fact, a Bloomberg article reported that more than 110,000 restaurants have closed permanently or long-term across the country because of the impact of the COVID-19 pandemic.
But as consumers shifted away from dining outside the home, they have moved toward preparing more meals at home, and purchasing more frozen foods because they have a long shelf-life, can be stockpiled in case of food shortages, and help to limit trips to the grocery store.
In November, the American Frozen Food Institute (AFFI) reported that sales of frozen food have been strong. "From fruits and snacks to entire meal solutions, the frozen food category is experiencing all-time sales highs over the past year. Consumer research indicates this momentum will continue even after the pandemic subsides."
As we mentioned in our previous article, Frozen Corn Can Be a Challenge, that's good news for the frozen food companies, but while they ramp up operations to meet demand, they must also continue to be vigilant in their food safety inspection practices.
Unfortunately, some frozen food manufacturers have already experienced some quality issues during the pandemic. The USDA announced that a prepared foods company recalled approximately 762,615 pounds of heat-and-eat pepperoni sandwiches because the frozen product may be contaminated with extraneous materials, specifically pieces of glass and hard plastic. The problem was discovered when the firm received four consumer complaints of extraneous material in the sandwich, and there was one report of a minor oral injury associated with consumption of this product.
One ice cream company recalled over 11,000 containers of ice cream because the products may be contaminated with extraneous material, specifically metal filling equipment parts. There has been one report of a customer who discovered an intact piece of metal equipment in one of the ice cream containers. There is concern of an additional piece of equipment present in the ice cream product(s) possibly presenting a choking hazard.
Most food manufacturers utilize food weighing and inspection equipment as part of their food safety program. Metal detection technology is one of the most common ways that food processers help ensure there are no metal contaminants in the foods that reach the customers' hands.
Food metal detectors help find small particles of metal by utilizing coils wound on a nonmetallic frame and connected to a high-frequency radio transmitter. When a metal particle passes through the aperture, the electromagnetic field is disturbed, changing the output signal by a few microvolts. This output indicates metal is present, so the product can be kicked off the line and the appropriate personnel can be alerted – long before it reaches consumers' hands.
Frozen foods, however, present unique challenges to metal detectors when they begin to thaw.
Partially frozen foods impact the metal detector's ability to distinguish metal contaminants from false signal created by the irregular product effect. Complicating matters even more, upstream machinery can accumulate ice which may occasionally deposit into the product — like at the beginning of a new batch. This is also a challenge for metal detectors because the ice deposit can "look" like a metal contaminant to the metal detector.
The latest metal detection technology utilizes one fully-flexible frequency per product application ranging from 50 to 1000 kHz. By using an optimized frequency for each product, a higher level of metal detection can be reached for all products because there is no need to compromise by choosing a single fixed frequency for all. This technology also includes an advanced phase tracking feature particularly valuable to frozen food processors as product may thaw in a warmer environment. It can automatically compensate small, gradual signal changes over time. By utilizing phase tracking, no manual intervention is needed to re-tune the device. The unit will self-correct during thaw without warranting an operator to touch a single button.
Assuring the safety of frozen foods is even more challenging during a global pandemic. Nonetheless, frozen food processors must trek forward producing food without compromising safety. Fortunately, new technologies make frozen food safety in a rapidly changing environment attainable.
To learn more about the latest metal detection technology for frozen foods, read the application note, Assuring the Safety of Frozen Foods During a Global Pandemic – and Beyond.