For over two decades, DNA analysis has played a crucial role in solving crime. To date, most DNA profiles have been generated via STR (short tandem repeat) multiplexes using capillary electrophoresis (CE) to separate 75 bp -450 bp PCR products by size. According to Tim Schellberg of Gordon Thomas Honeywell Government Affairs, greater than 70 million STR profiles exist globally in forensic DNA databases and are searched routinely in forensic investigations.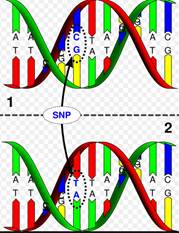 However, some casework samples cannot be analyzed using STRs as they are too degraded to provide a profile with meaningful discriminatory power. Enter targeted sequencing of SNP (single nucleotide polymorphism) markers using next-generation sequencing. SNPs have a low mutation rate, high discrimination power, and can be analyzed in large numbers1 (100s to 1000s of targets) and can be analyzed in panels comprised of short amplicons (<150 bp). Next generation sequencing also offers flexible workflows to simultaneously process many samples in a single run.
Forensic genetic laboratories at the University of Copenhagen (Denmark) and Shanghai Key Laboratory of Forensic Medicine, with several collaborating labs in China, have recently validated the use of Precision ID and custom Ion AmpliSeq™ SNP panels using Ion Torrent sequencing.
Buchard et al published the internal validation of Precision ID Identity Panel in their ISO 17025 laboratory in Copenhagen. They genotyped 100 unrelated Danes and analyzed results based on locus balance, heterozygote balance (Hb) and noise levels. Their three general acceptance criteria for analysis of single-source samples were defined as sequencing depth > 200 reads, noise level <3% and Hb > 0.3. Additionally, they developed their own Python script, SNPonPGM, to call out loci that did not meet the minimal acceptance criteria. Mixture analysis was also performed with ratios from 1:1 to 1:48. Overall, with the exception of one SNP in one sample, they had complete concordance with prior Sanger sequencing results. These studies determined that two of the 124 markers did not perform well and those were eliminated from further analyses. The lab intends to use this panel for paternity and immigration cases currently and they "…anticipate that NGS assays will become an important part of the forensic arsenal in the future and that additional NGS assays will follow" 2.
Zhang et al designed a custom SNP panel and performed a developmental validation using the Ion PGM™ System. Resources used for developing the panel were HapMap, dbSNP, SNPforID, IISNP and other published literature on genotyping studies in Asian populations. Marker selection criteria included universal SNPs with minor allele frequency (MAF) >0.1 in Chinese HAN population, autosomal SNPs with MAF >0.3 in Beijing HAN population, location within introns, and spacing > 5 MB between SNPs amongst others. The panel consisted of 273 markers (233 autosomal SNPs, 9 Y-SNPs and 31 X-SNPs). The concordance study using controls 9947A and 9948 showed excellent results across 269 markers with only 4 missing due to low sequencing coverage. In other results, only 16 of the 273 markers performed poorly on first pass due to coverage and heterozygote imbalance, which could possibly be resolved with primer redesign and optimization. Overall the teams here found these …"SNPs constitute an excellent panel for individual identification including paternity testing, and the unlinked status of the subset of auto-SNPs and X-SNPs we have identified suggests that the SNPs are useful for situations involving close biological relationships" 3.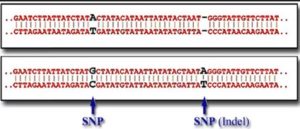 The use of next-generation sequencing in forensic applications is still in its infancy as research teams around the globe evaluate the best markers to use when STR profiling by CE is inadequate. Every case and every sample may have different needs. STR sequencing can provide allele size, as well as base composition, which may be helpful in mixture analysis. SNP analysis may be the right choice when there is no profile found in the national database- using ancestry SNPs or phenotypic SNPs to generate investigative leads or using identity SNPs to match a suspect to a degraded crime scene sample. And some labs are using mitochondrial DNA sequencing when samples, such as hair, teeth and bone, have no nuclear DNA to analyze. We'll see what 2017 holds as more and more labs begin their own evaluation and validation of next generation sequencing techniques, so stay tuned.
For more information visit us at thermofisher.com/HID-NGS
References:
1] Phillips C, García-Magariños M, Salas A, Carracedo Á, Lareu M, V, SNPs as Supplements in Simple Kinship Analysis or as Core Markers in Distant Pairwise Relationship Tests: When Do SNPs Add Value or Replace Well-Established and Powerful STR Tests? Transfus Med Hemother 2012;39:202-210
2] Buchard, A., Kampmann, M.-L., Poulsen, L., Børsting, C. and Morling, N. (2016), ISO 17025 validation of a next-generation sequencing assay for relationship testing. ELECTROPHORESIS, 37: 2822–2831. doi:10.1002/elps.201600269
3] Zhang, Suhua et al. Developmental validation of a custom panel including 273 SNPs for forensic application using Ion Torrent PGM. Forensic Science International: Genetics , Volume 27 , 50 – 57
For Research, Forensic or Paternity Use Only. Not for use in diagnostic procedures.